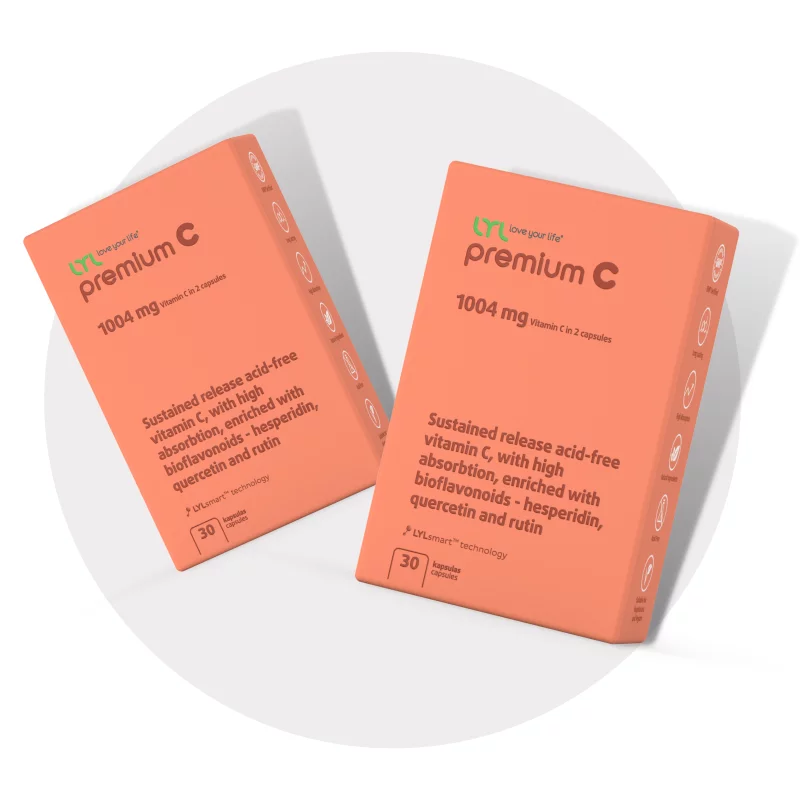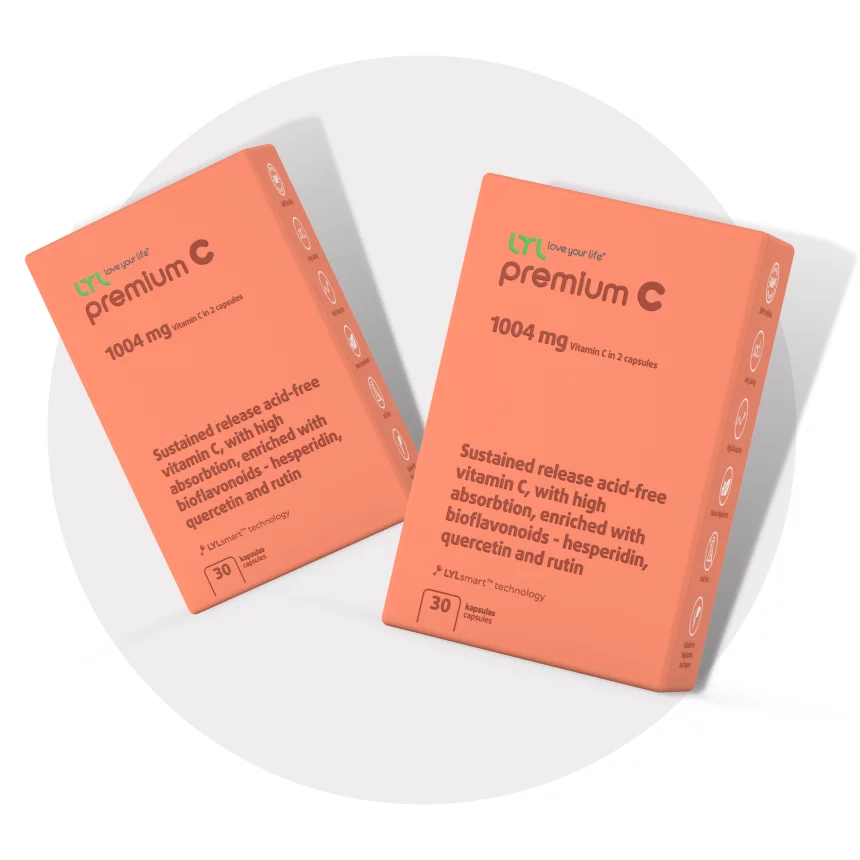 FORM THAT BODY
UNDERSTANDS
8 hour action
LYLsmart™ acid-free formula
suitable for people with allergies
FORM THAT BODY
UNDERSTANDS
8 hour action
LYLsmart™ acid-free formula
suitable for people with allergies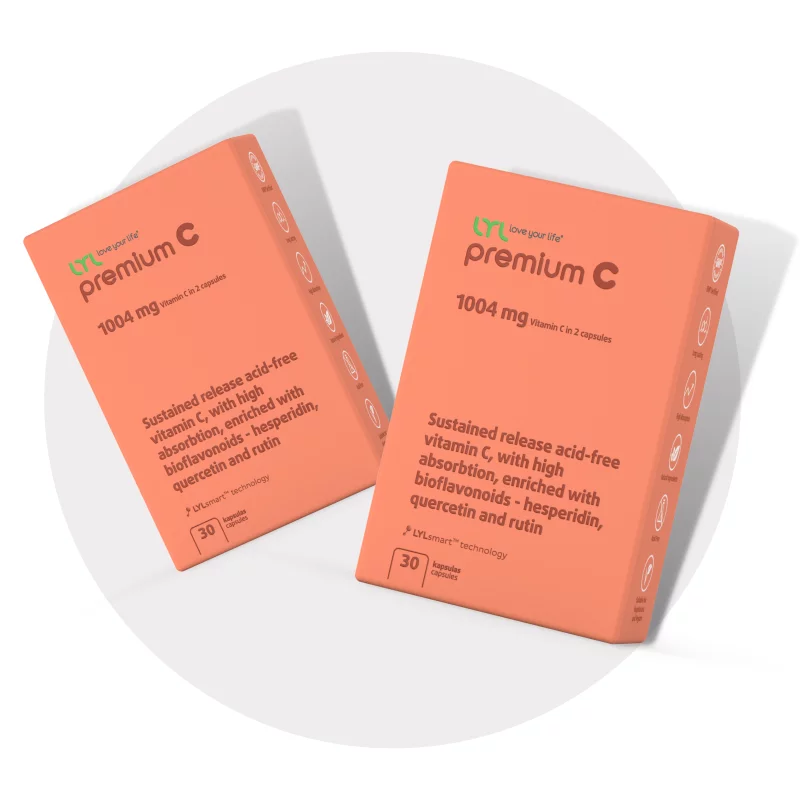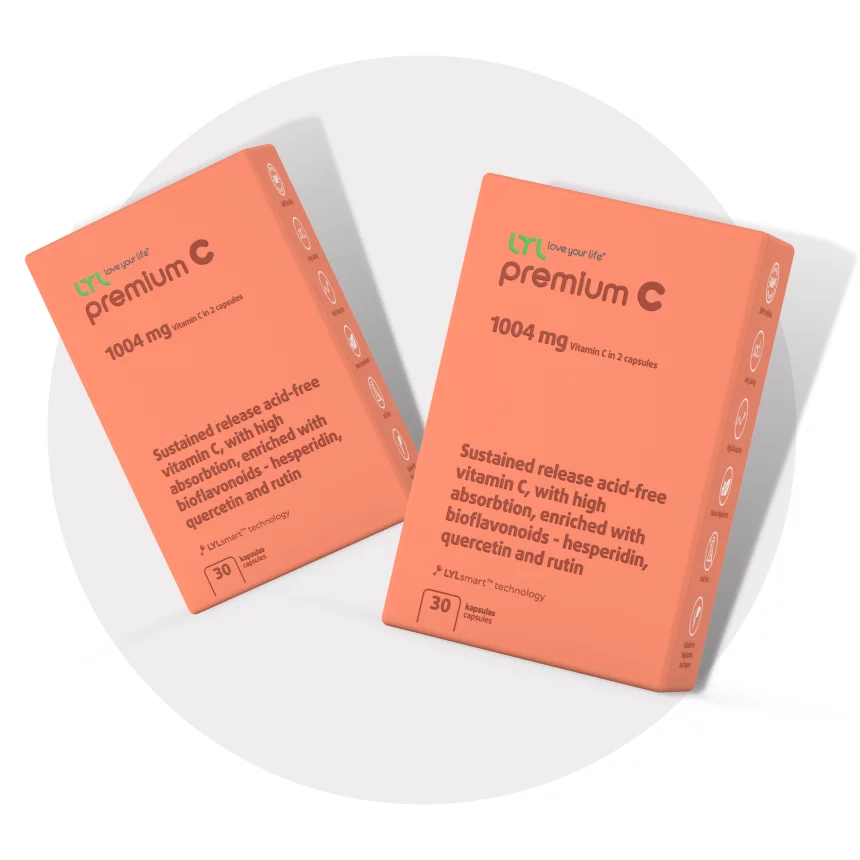 Advantages of the formula
alkaline vitamin C, which is identical to organic compounds in the human body provides high absorption
LYL premium C does not contain preservatives, animal raw materials and is suitable for vegetarians and vegans
Sepismart™ patented technology ensures gradual dissolution of vitamin C and effective levels throughout the day
suitable for use in people suffering from elevated stomach acid, chronic diseases causing acidic environment (diabetes, psoriasis, arthritis, osteoporosis, gout)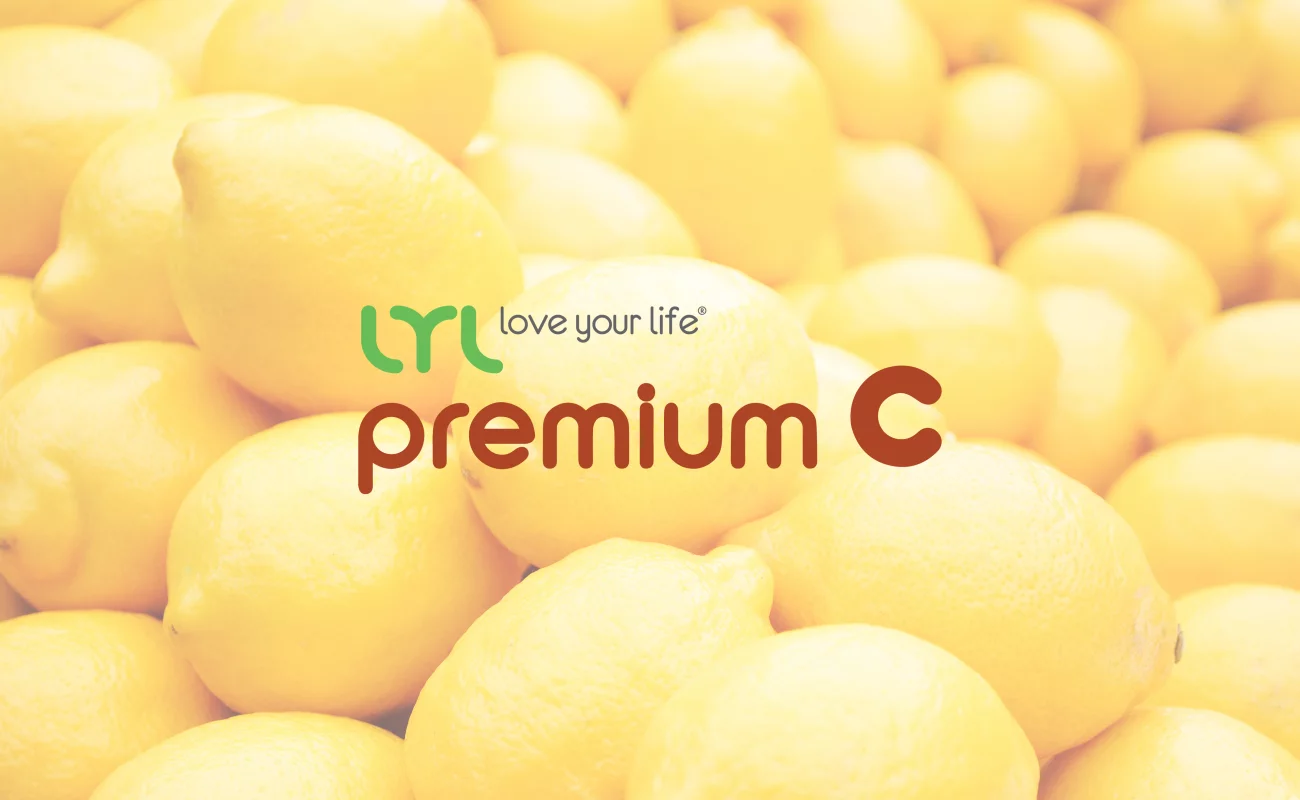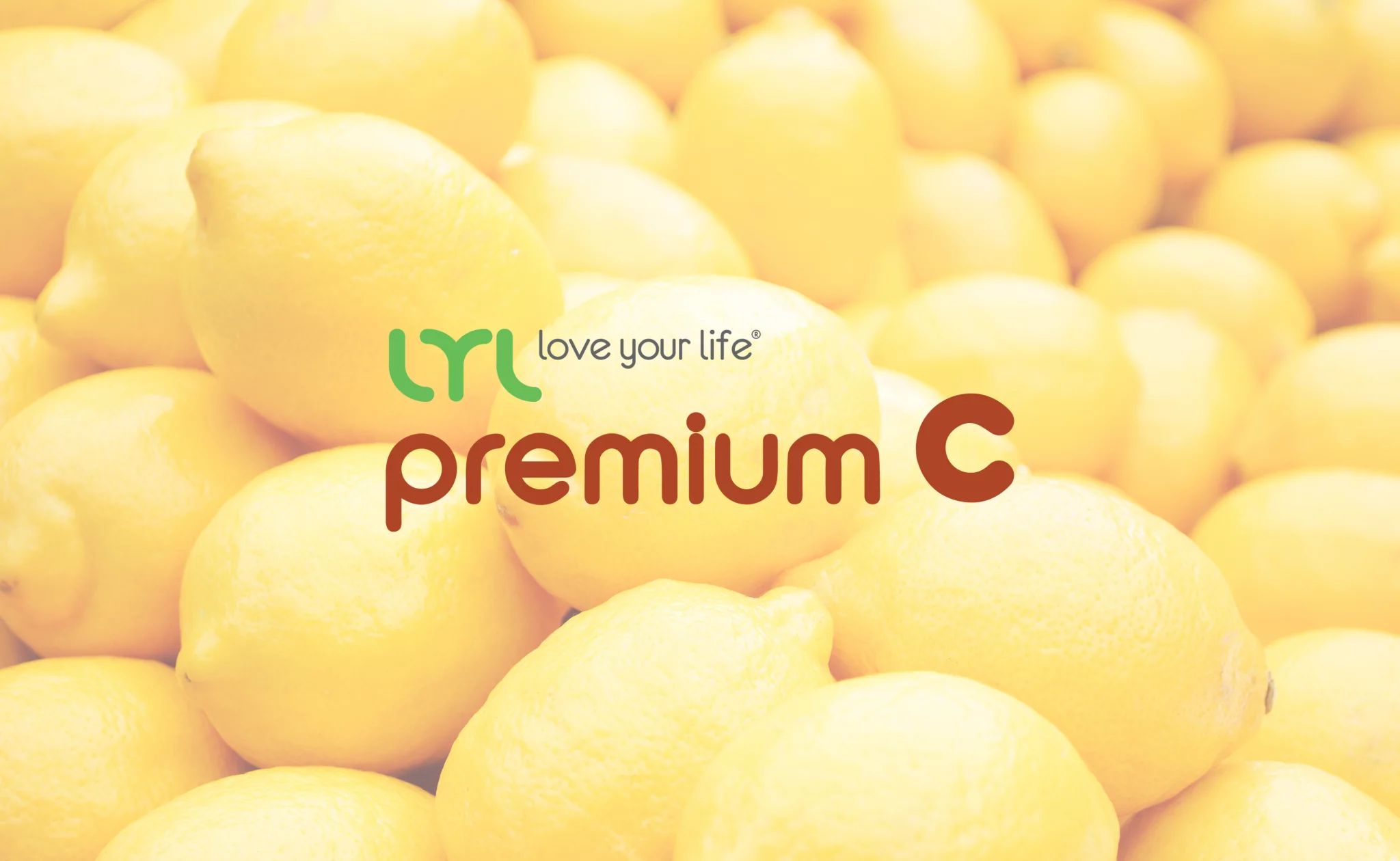 Advantages of the formula
alkaline vitamin C, which is identical to organic compounds in the human body provides high absorption
LYL premium C does not contain preservatives, animal raw materials and is suitable for vegetarians and vegans
Sepismart™ patented technology ensures gradual dissolution of vitamin C and effective levels throughout the day
suitable for use in people suffering from elevated stomach acid, chronic diseases causing acidic environment (diabetes, psoriasis, arthritis, osteoporosis, gout)

One of the main reasons people take vitamin C supplements is to boost their immunity, as vitamin C is involved in many parts of the immune system.
First, vitamin C helps encourage the production of white blood cells known as lymphocytes and phagocytes, which help protect the body against infection.
Second, vitamin C helps these white blood cells function more effectively while protecting them from damage by potentially harmful molecules, such as free radicals.
Third, vitamin C is an essential part of the skin's defense system. It's actively transported to the skin, where it can act as an antioxidant and help strengthen the skin's barriers.
Studies have also shown that taking vitamin C may shorten wound healing time.
What's more, low vitamin C levels have been linked to poor health outcomes.
For example, people who have pneumonia tend to have lower vitamin C levels, and vitamin C supplements have been shown to shorten the recovery time.
SUMMARY: Vitamin C may boost immunity by helping white blood cells function more effectively, strengthening your skin's defense system, and helping wounds heal faster.
A highly effective antioxidant that can help maintain healthy tissues by neutralizing free radicals generated during normal metabolism and exposure to environmental stressors. Vitamin C affects cells on the inside and outside of the body and it's antioxidant properties can be beneficial when it comes to aging. A study published in the American Journal of Clinical Nutrition examined links between nutrient intakes and skin aging in 4,025 women aged 40-74. It found that higher vitamin C intakes were associated with a lower likelihood of a wrinkled appearance, dryness of the skin, and a better skin-aging appearance. In addition, topical treatments with Vitamin C have been shown in some studies to reduce wrinkles.
Iron is an important nutrient that has a variety of functions in the body. It's essential for making red blood cells and transporting oxygen throughout the body.
Vitamin C supplements can help improve the absorption of iron from the diet. Vitamin C assists in converting iron that is poorly absorbed, such as plant-based sources of iron, into a form that is easier to absorb.
This is especially useful for people on a meat-free diet, as meat is a major source of iron.
In fact, simply consuming 100 mg of vitamin C may improve iron absorption by 67%.
As a result, vitamin C may help reduce the risk of anemia among people prone to iron deficiency.
In one study, 65 children with mild iron deficiency anemia were given a vitamin C supplement. Researchers found that the supplement alone helped control their anemia.
If you have low iron levels, consuming more vitamin-C-rich foods or taking a vitamin C supplement may help improve your blood iron levels.
SUMMARY: Vitamin C can improve the absorption of iron that is poorly absorbed, such as iron from meat-free sources. It may also reduce the risk of iron deficiency.
Dementia is a broad term used to describe symptoms of poor thinking and memory.
It affects over 35 million people worldwide and typically occurs among older adults.
Studies suggest that oxidative stress and inflammation near the brain, spine, and nerves (altogether known as the central nervous system) can increase the risk of dementia.
Vitamin C is a strong antioxidant. Low levels of this vitamin have been linked to an impaired ability to think and remember.
Moreover, several studies have shown that people with dementia may have lower blood levels of vitamin C.
Furthermore, high vitamin C intake from food or supplements has been shown to have a protective effect on thinking and memory as you age.
Vitamin C supplements may aid against conditions like dementia if you don't get enough vitamin C from your diet. However, additional human studies are needed to understand the effects of vitamin C supplements on nervous system health.
DISCLAIMER: THESE STATEMENTS HAVE NOT BEEN EVALUATED BY THE FOOD AND DRUG ADMINISTRATION. THIS PRODUCT IS NOT INTENDED TO DIAGNOSE, TREAT, CURE OR PREVENT ANY DISEASE.